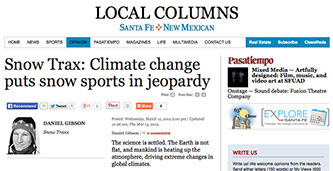 I have produced a column for more than two decades on regional snow sports and travel that has run in newspapers, including the
Santa Fe New Mexican
, the
Las Vegas Optic
, the
Farmington Daily Times
, the
Amarillo Globe News
, the
Odessa American
and the
Abilene Reporter-News
. I always wanted to secure the
Lubbock Avalanche Journal
but never did. The column, still running weekly in the New Mexican, focuses on news, special events, developments, technique and health advice, and people in snow sports—from COOs to children racers, back country enthusiasts to Santa Fe's Ribbon Brigade. Its home turf is New Mexico/Southern Colorado, plus occasional forays further afield. The written column led to similar work for several web sites over a period of 4-5 years, including GreatOutdoors.com and OnTheSnow.com.
"Verde Santa Fe/Green Pages/EarthLines"
I wrote a weekly column for the
Santa Fe Reporter
that ran for close to five years under various names focused on news about (mostly) local environmental issues, developments and people in the field, including a subsection titled "Salute of the Week," a calendar of weekly outdoor activities liked guided hikes, a quote of the week and related topics.
I came up with topics and wrote this section of the magazine every issue for longer than I care to think about. Topics spanned a huge range of people, events, institutions, issues and tribes, from the Gulf of Alaska to southern Chile. Many of them are found online, though are uncredited.
A column dedicated to providing a comprehensive overview of the very best events happening across Indian Country every two months, plus a focus on one event in particular. Typically 13-15 events were noted, with details and contact information on events running from major annual gatherings to more obscure, one-time events. No other source on happenings in Indian Country has ever come close to this column.